Welcome to Black Isle Pet Services and Home Boarding!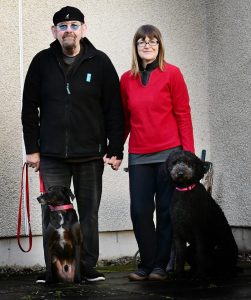 We are Mike and Dianne Keavey, and along with Susie and Nico, we offer home boarding and other pet services from our lovely home in the village of Culbokie in the Black Isle, just north of Inverness.
We provide exceptional, loving and fun care in a home environment for your dog when you cannot be there. Our aim is for you to be able to go on holiday or go to work and not feel worried or guilty about leaving your dog behind.
Susie and Nico are well socialised and friendly dogs. Nico is a rescue from Eastern Europe so we have experience in dealing with the issues which these dogs may have. We have had Susie since she was a puppy, and have had previous puppies too, and we have looked after several elderly dogs with complex medical histories. So you can be assured that if your beloved pet has any special requirements, we will be able to give him or her the one-to-one special care that they may need.